Incredibly dangerous levels of PFAS are contaminating the water supplies in areas surrounding over ten military bases, according to new tests from the Department of Defense. 
The data shows five kinds of PFAS compounds, at what is characterized as "extremely high" levels. 
"You can only hope that people know and are finding alternative sources of water because those are shockingly high levels of PFAS," said Scott Faber, the Vice President of Government Affairs at the Enviornmental Working Group. 
PFAS, or per- and polyfluoroalkyl substances are a class of roughly 9,000 chemicals that are used in at least a dozen different industries to make products that are resistant to water, stains, and heat. 
Although these PFAS-related compounds are highly effective at doing their job, they are known to be linked to cancer, kidney disease, birth defects, decreased immunity, liver problems and a range of other serious diseases. 
PFAS can be absorbed through ingestion (e.g., drinking contaminated groundwater, eating fish exposed to the chemicals) and inhalation – and can even enter the body through the skin.  
Moreover, it has been established that PFAS can pass through breast milk and cross the placenta from mother-to-fetus during a pregnancy. 
PFAS are more commonly known as 'forever chemicals' due to their longevity within the environment, and PFAS health effects have been widely studied for years.
Furthermore,  PFAS have been known to contaminate both dairy and beef farms in Maine and Michigan, and some recent testing from the consumer wellness site Mamavation found viable evidence of PFAS in foods, such as organic pasta sauces, canola oils and nut butters.
PFAS gained particular attention in the early 2000s when DuPont came under fire for using PFOA inside the Teflon pans they manufactured, subsequently contaminating the drinking water ingested by 70,000 West Virginia residents. 
Military firefighters use aqueous-film-forming foam (AFFF) which contains extremely elevated levels of PFAS, in training exercises and emergency scenarios.  
Though AFFF is also widely effective, it has led to contamination around both military bases and airports, and Congress mandated the military check for PFAS pollution at 700 facilities while allocating $571M to a cleanup effort, although the cost is believed to be much closer to $2 billion. 
Moreover, the 2020 National Defense Authorization Act mandated that the Department of Defense is to begin phasing out the PFAS foam and will start looking into safer alternatives.  
The EPA set an advisory health standard of 70 PPT for PFOS and PFOA, two types of PFAS that are used in the foam itself, though that barometer may soon be lowered, and some states have already set a lot lower standards. 
In a statement, the Department of Defense said that since 2016, they have provided bottled water and filtration systems or connected residences to municipal water lines in locations where PFAS have been found to help mitigate PFAS exposure.
"If you are relying on well water and are near one of these bases where PFAS has been confirmed in the groundwater, you should be concerned," said Faber.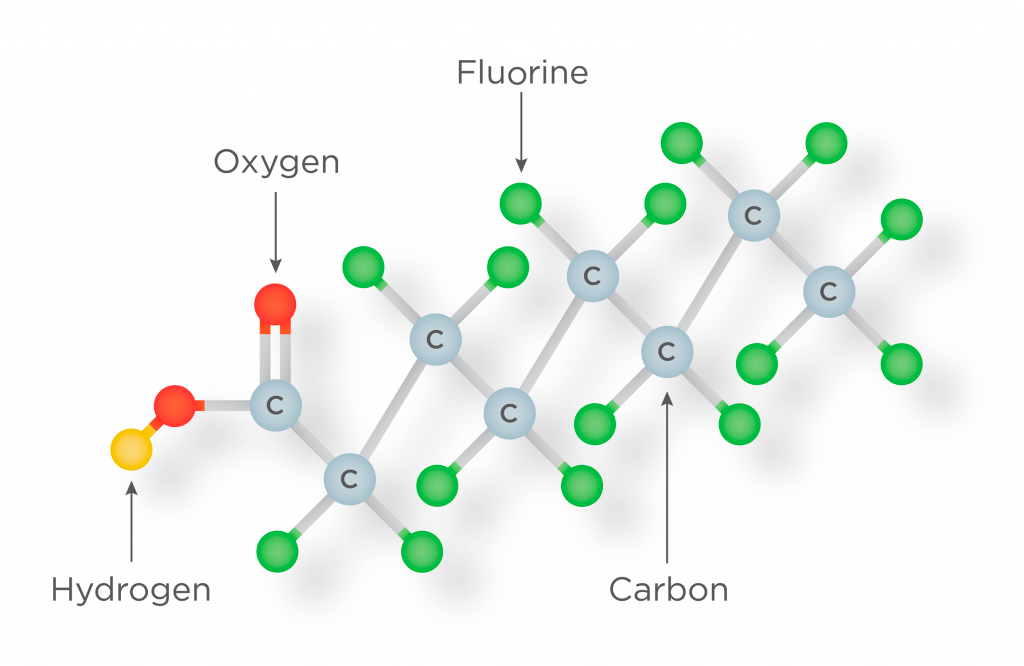 PFAS and Military Bases: Where Has This Happened?
Here is a list of military bases that are known to have had their drinking water contaminated with PFAS chemicals:  
Alameda Naval base, California 

Chanute Air Force base, Illinois 

China Lake Naval base, California 

Dallas Naval base, Texas 

Dover Air Force base, Delaware 

Eielson Air Force base, Alaska 

Ellsworth Air Force base, South Dakota 

England Air Force base, Louisiana 

Jacksonville Naval base, Florida 

Joint Base Langley-Eustis, Virginia 

Joint Base San Antonio, Lackland, Randolph, Fort Sam Houston, and Camp Bullis, Texas 

Moody Air Force base, Georgia 

NAS Oceana Naval base, Virginia 

Patrick Air Force base, Florida 

Pease Air Force base, New Hampshire 

Peterson Air Force base, Colorado 

Plattsburgh Air Force Base, New York 

Port Hueneme Naval base, California 

Richards-Gebaur Air Force base, Missouri 

Seymour Johnson Air Force base, North Carolina 

Wright-Patterson Air Force base, Ohio 

Wurtsmith Air Force base (Oscoda), Michigan 
U.S. Senator Sherrod Brown was one of over 30 lawmakers who sent a letter about PFAS, or forever chemicals, at military bases to the U.S. Department of Defense in October. 
Brown, D-Ohio, is asking the Pentagon to put greater emphasis on dealing with these chemicals. 
We plan to update this article as more information on PFAS and military bases becomes available.